Sitting in the conservatory, watching Jeremy (our pet tortoise) slowly stroll across the garden eating all the dandelions in his path an image formed in my mind. Golden hills and a lonely figure standing in the sparse landscape. Inspiration hit me quickly and I knew this was going to be the concept for my upcoming self portrait for the Self Portrait Project. A week of sunshine but filled to the brim with other activities, I knew I was going to have to wait till next week to take the photographs.
I pictured the lighting for the images to be golden so I planned to take the photos on the upcoming Monday evening. A week of gorgeous sunshine I thought was going to last for a bit longer. Monday came and so did the rain. So I thought I'd leave it to the next day. Tuesday came and so did the rain. Maybe I'll wait to Wednesday. More rain. Thursday? I have plans to go to a gig. Thursday won't work. Friday, then? More rain. Saturday arrived and I was sick of the rain at this point. I turned to Aaron and said "Screw it! I'm going to take my self portraits today and I'll just have to get soggy!". Aaron came with me so that he could protect my camera from the rain. He also helped me with location hunting and posing. He's such a gent!
The look itself was easy to come up with. I wanted to be the figure that came to me in my minds eye, dressed in black from head to toe. I adore western fashion, and already have a number of clothes I could put together to create my anti hero alter ego. I previously bought a cowboy style hat for my "A Close Watch" shoot with Arleya and Rebecca, so I used this with a long black skirt with side slit, one of Aaron's black shirts, my leather jacket and a string choker with silver drop details. I also put on my Doc Martins with white knee length socks for extra coolness!!! The make up was my favourite part. I used Urban Decay eye shadow palettes, using their darkest shades to create a heavy smokey eye. I kept my lips nude so that the attention was on my eyes. I gave myself a middle parting, plaited sections of my hair to add texture. I was anticipating that the rain was going to mess up my hair, but I wanted this to make the photos seem raw and authentic. A cowgirl isn't gonna care about her messy hair, am I right? The outfit made me feel really powerful and strong as soon as I put it on. I felt like a new person.
We ventured out in the cold rain and took the photos in a field close to my house. A location which has been one my favourites for self portraits for about 10 years! As this field is intended for new houses, they have moved a lot of the earth into tall mounds and pits to do whatever tests are necessary. This was perfect for what I initially intended. The area where I live is very flat, so these man made mounds were great for creating the illusion of a hilly location. We took the photos from an array of different heights to suggest that this is a hilly location. The rain made it difficult to be outside for a long time, we were probably outside for about 45 minutes. It was so cold that our hands were turning pink and seizing up (something I had to retouch in Photoshop), our noses were running and we were becoming a little bit grouchy (we went to McDonalds afterwards so that cheered us up!). The rain made it difficult for me to open my eyes, as it was clingy and getting in my face. Luckily squinting my eyes helped to make me look more menacing. So I guess we have to be grateful for the rain for that! I think the rain also helped to make the setting look more dreary and miserable, perhaps helping to make my character look more like an outcast.
Editing these photos was lots of fun! I had to completely transform the bright green location into something that resembles a valley/desert/wild wild west! I used both Lightroom and Photoshop to get the desired golden, reddish tones. In Lightroom I made the location warmer and golden. In Photoshop I increased the red, magenta and yellow to get it to the colour I wanted using Selective Colour and Gradient Maps. I tried to keep myself looking as pale as possible to make me stand out and contrast the location. I want people to be drawn in by the character first and then scout the location for more information. Below are some before and after images of my edits.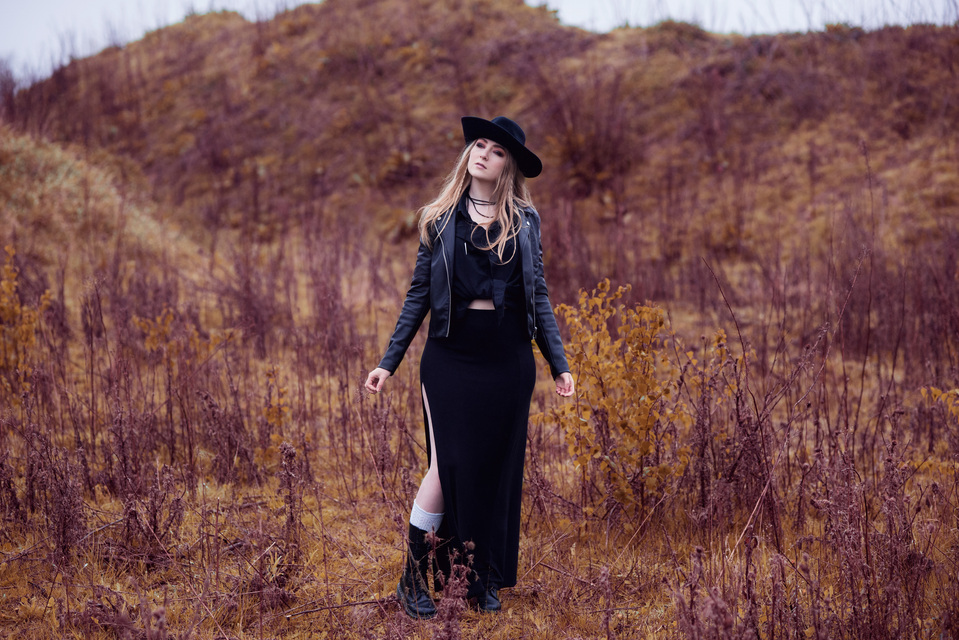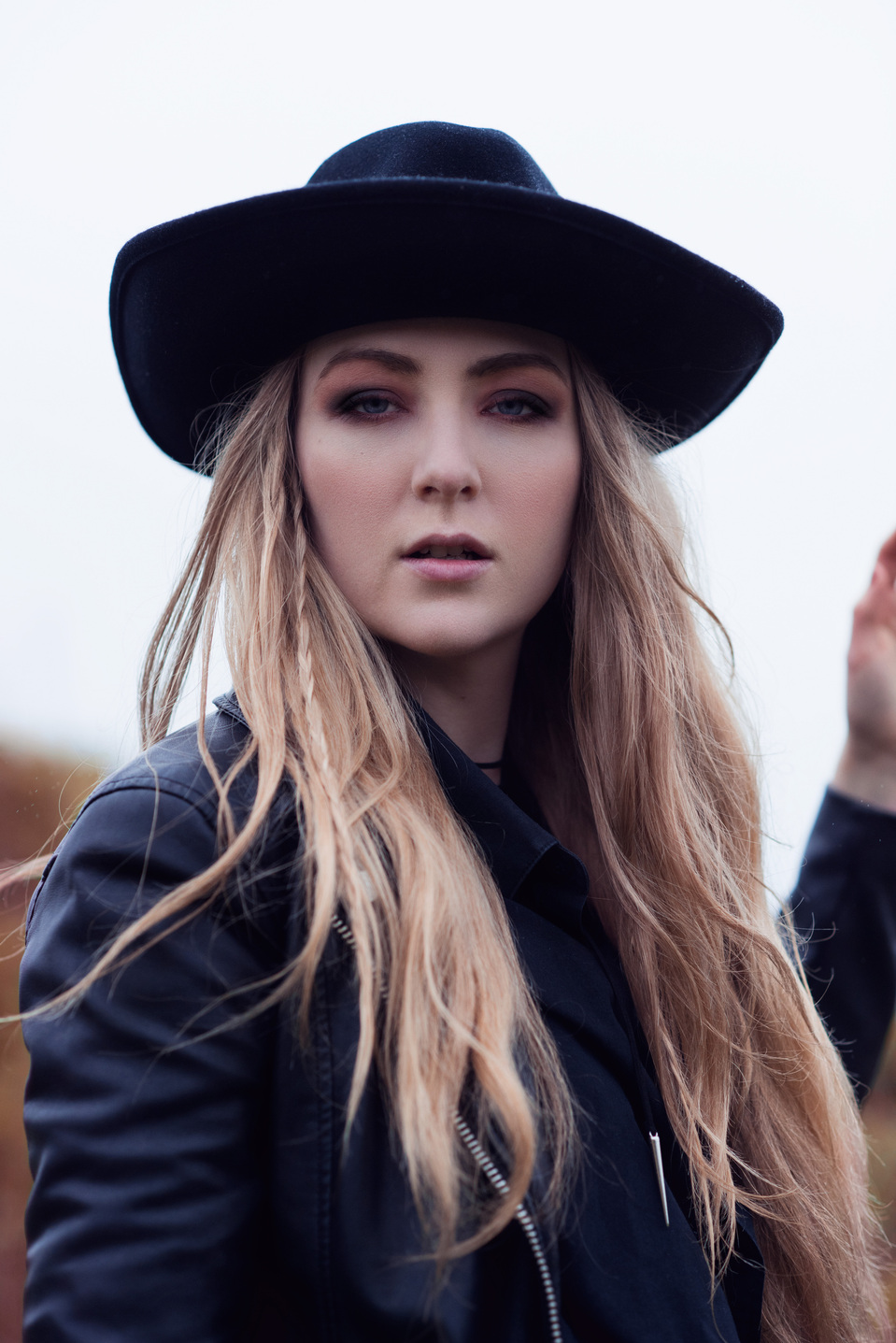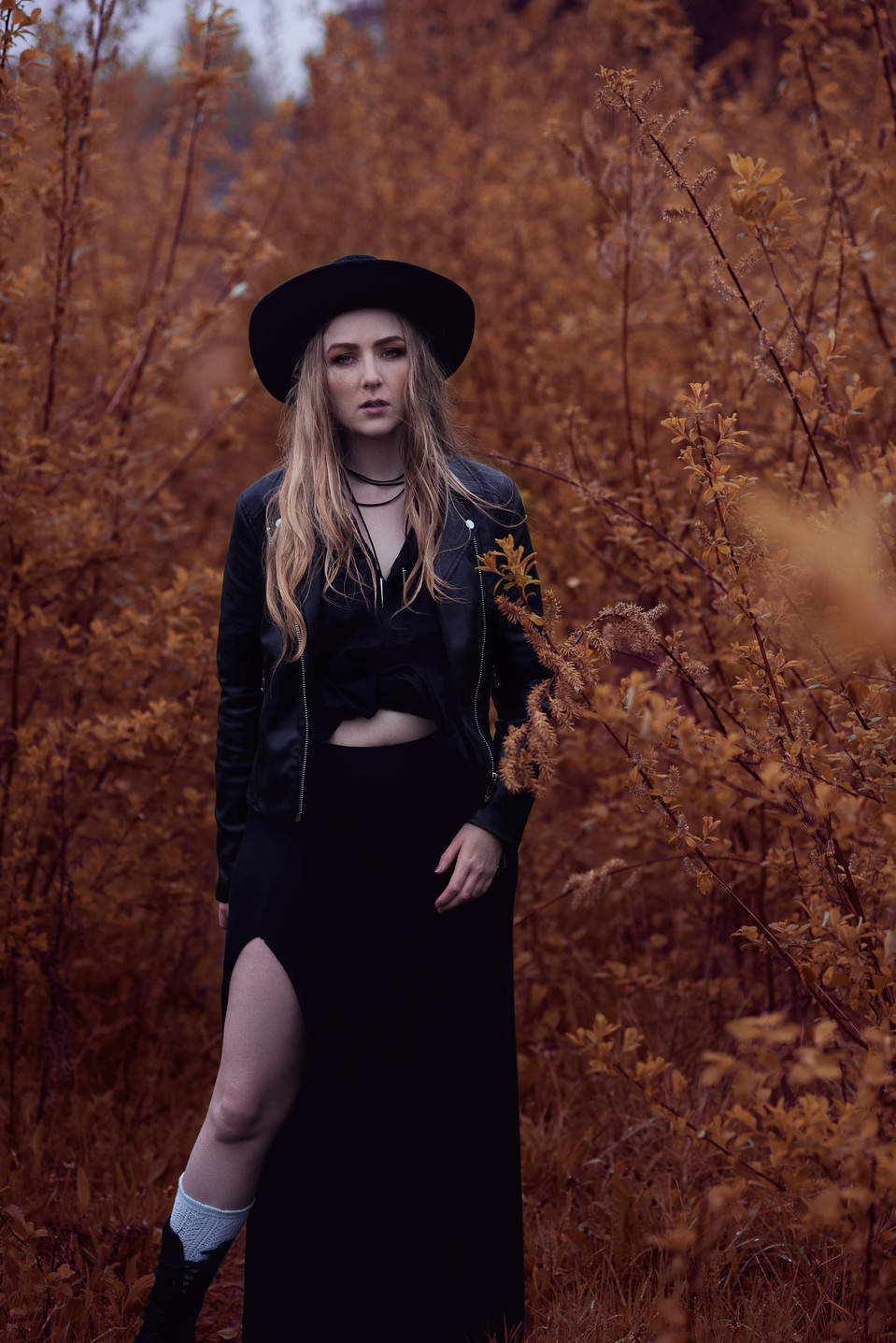 These photos are my favourite from the Self Portrait Project so far. We are only four months in, so I'm really excited about what's going to inspire me over the upcoming months. Keep your eyes peeled!